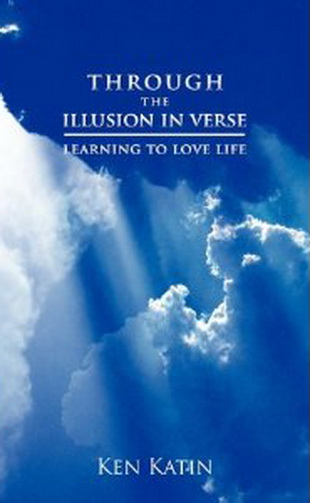 through the illusion in verse
written by the owner of this blog.
Can be purchased now at Amazon in paper back or ebook (kindle) format by clicking on the book.
This book of verse is written to entertain and inspire readers. The subjects are diverse and written in many different styles. The purpose is to relate lessons of life within the verse. Small bits of wisdom and humor illustrate the lessons. Some of the verse is serious and some to just play around and have fun. It can be read from the middle or the end, or just any page that catches the reader's attention. It's the kind of book that can be read over and over for new meaning each time.
through the illusion

Dance with me on froth of waves
cross spans of deep blue ocean.
Twirling, leaping, bonding, 'till,
we faint from the emotion.

Lie with me on swift Brig deck
watching the midnight sky.
Counting all the winking stars
bathed in their soft warm sigh.

Come slide with me down mountain
peak into the valley below.
A place where no shadows hang
nor any harsh winds blow.

Love me just for who I am
as we float on misty clouds.
No guilt, and no regret, far
from the vexing crowds.

Playing through the illusion,
we can choose to happy be.
Just as we are this moment,
no dark future to foresee.

Ken Katin
Number of View :628